The History of Curling in Indian Head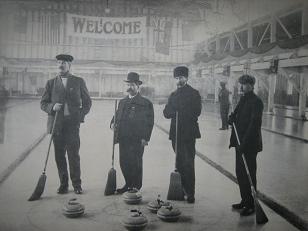 Settlers began to move to Indian Head in 1882 and curling started in the town in 1887. The curling rink at that time was located behind the old Bank of Montreal Building.
Indian Head curlers were in Regina on Saturday 30th January 1890 for the first curling match to take place in the city.
The Indian Head rink was upgraded in 1900 by Mr John Hunter.
A second rink was established within the next 5 years in the creek area between Bell and Eberts Streets. At this time the Curling Club was associated to the Manitoba Curling Association.
Curling was very popular with the early settlers and a ladies club was created in 1913.
In the mid 1920's a new rink was built with 4 sheets of ice.
In 1933 there was uproar when curling fees rose from six to eight dollars. Two weeks later the fee hike was rescinded after numerous complaints.
On 20th November 1961 the club held their first bonspiel on artificial ice.